Glass and steel in office spaces.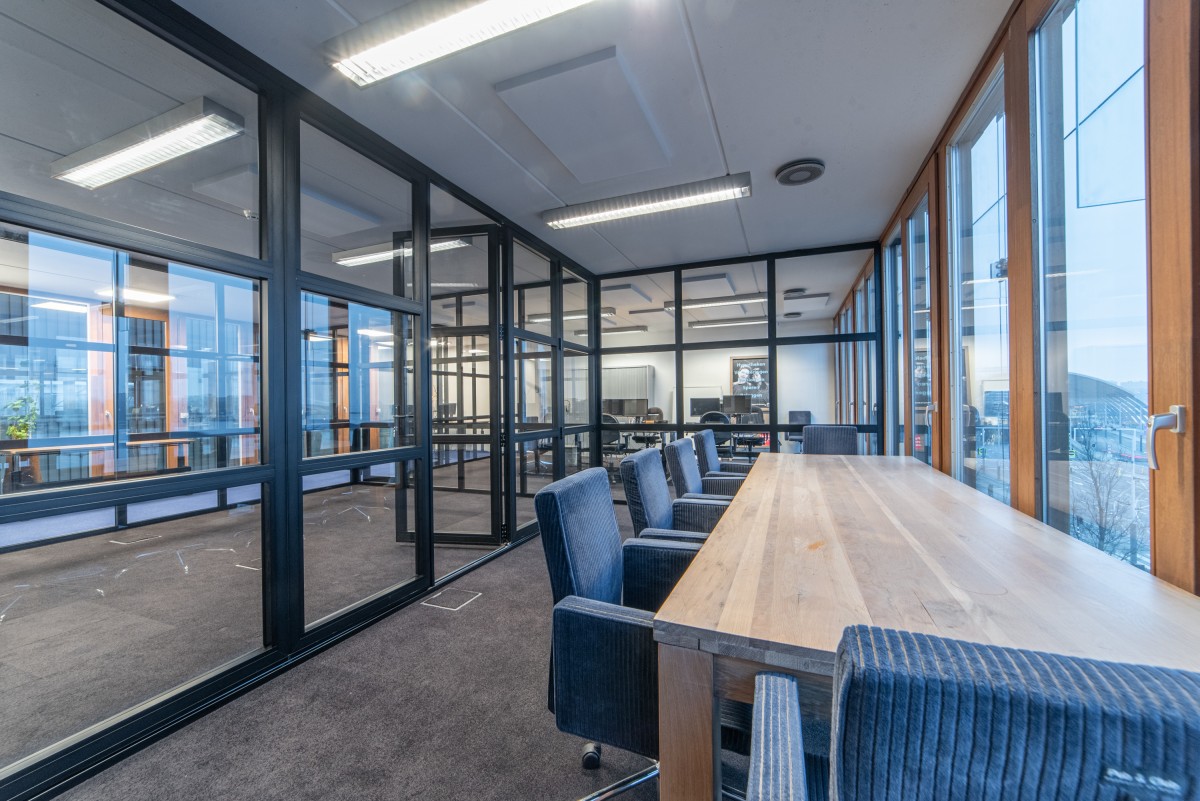 Are you the proud owner of an office space, but do you sometimes feel like it does not meet your
company's needs? A lot of business owners struggle with workplace organization. As your business
grows, you will need to hire more employees and this automatically involves clearing up office
space. But what happens if you do not have a lot of space? Yet still need to create separations where
people can work in peace?
Then our glass and steel walls might just be the perfect solution for you. Office spaces with many
separate rooms and divisions are becoming something of the past, as open floor plans are making it
much easier for your team to maximize efforts and collaborate on projects. With glass walls you can
divide a space to create privacy and at the same time enjoy the spaciousness of an entire office
floor. Read on for more information about glass partition walls and the possible benefits for your
office.
The benefits of an open concept office space in a nutshell
The days of small office partitions and dark cubicles are as good as over. During the past decades,
open floor plans have become more popular because it helps to create a sense of spaciousness and
makes an office floor much brighter. With an open floor plan you can capture daylight much more
efficiently, which is a massive benefit for your employees as daylight is practically essential for
good health and productiveness.
Next to the aesthetic benefits, an open office floor plan is also beneficial in many practical ways. You
maximize floor space, making it possible to create several spaces for multifunctional use. Your team
can easily work together on many topics and projects and an added bonus is the enhanced sense of
accessibility. The only problem arises when you make no partitions at all: this can result in
distractions due to audible interference. It can be very hard to make a phone call when your
colleagues are having a meeting right next to you. This is exactly where our glass and steel walls
come into the picture.
Glass and steel walls to improve workplace organization
If you are at the point where you feel your office space could be organized more efficiently, glass
steel walls are probably your best option. You can utilize glass partitions to divide a space in
multiple sectors, where individuals can work and at the same time meetings and conferences can be
held. Glass will provide your office space with an abundance of light, whilst at the same time
providing acoustic insulation and privacy.
Some proven benefits of glass walls for your office space:
With glass and steel walls you maximize the amount of natural light in any space, which will
greatly reduce the need for artificial lighting. Evidently this will not only lead to healthier
employees, but also a lower electric bill.


Glass partitions enhance collaboration and communication between employees, because it's
much easier to see and access each other.


Glass walls have a sophisticated and sleek feel, which will greatly enhance the interior of
your office space. It will make your business look more modern and progressive, which is a
definite added bonus if you often receive clients in the office.


Glass walls are perfect to regulate the acoustics in any space. This results in less distracting
sounds and noises, more privacy and thus; much higher productivity.


Last but not least: glass walls are substantially cheaper than conventional walls. It is also a
much more flexible way to divide your office space, since there are many solutions possible
that let you change the office layout whenever you feel like it.
Glass is also very easy to implement in an already existing interior or décor, since it goes well with
every imaginable material and pieces of furniture. If you would like to receive some information or
advice about our glass and steel walls, never hesitate to get in touch with Pro Steel. We can discuss
all possibilities for your office space and provide you with a clear quote.
Would you like to see how we reorganize office space in Amsterdam?
Check out GALLERY or VIDEO
Clients and Partners
We are working with the best