Doors and other elements composed of steel and glass
Steel and glass interior doors (and more)
We are a manufacturer and distributor of steel and glass elements. These unique solutions are perfect for dividing or accentuating a space, in particular spaces that are large and could do well with a division. If you currently own an office or ahouse and would like to change the interior, glass and steel elements might be the perfect solution for you. Next to products that divide a space, we also create glass and steel doors, partitions, separations and balustrades. The main benefit of glass and steel partitions is the enormous amount of natural lighting you will allow into any space. Natural light has many health benefits, plus it makes every room look instantly larger and brighter.
Our glass and steel solutions are each individually designed for every client. We have multiple standard dimensions, finishes, colors and accessories, which makesit easy to mix and match the various elements. You can also choose form different types of doors; this ranges from hinged doors, sliding doors to doors thatcan be operated using your Smartphone. We can also design elements for individual customer orders, such as shower cabins and other personalized elements. Every single one of our products is made to order, meaning you as a customer have an ample amount of freedom in choosing the perfect solution.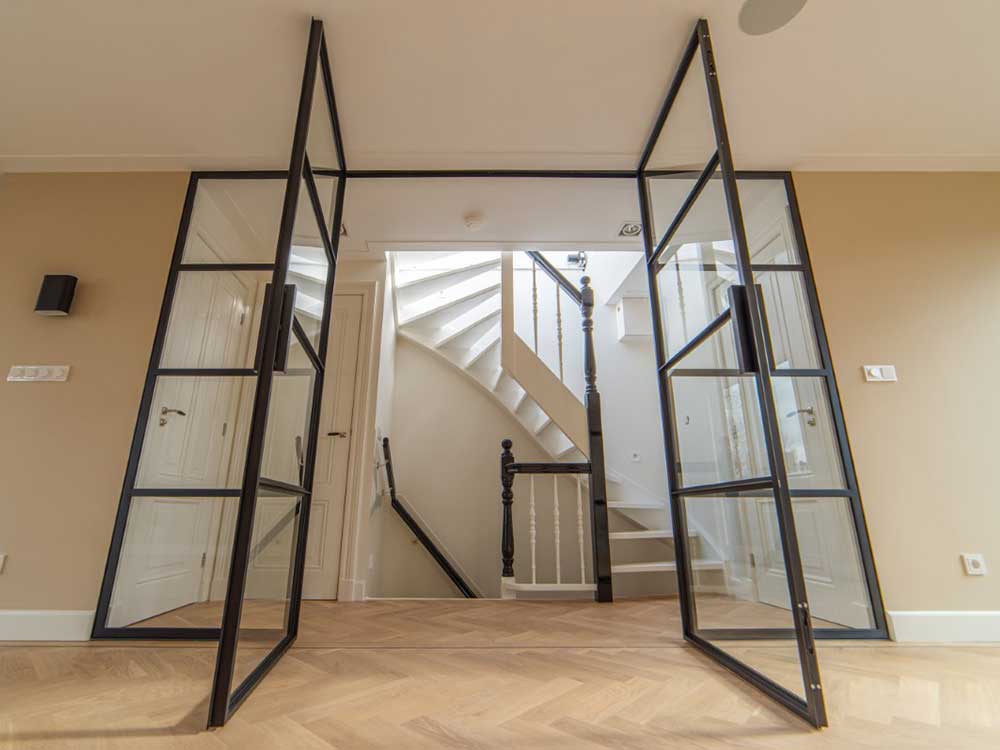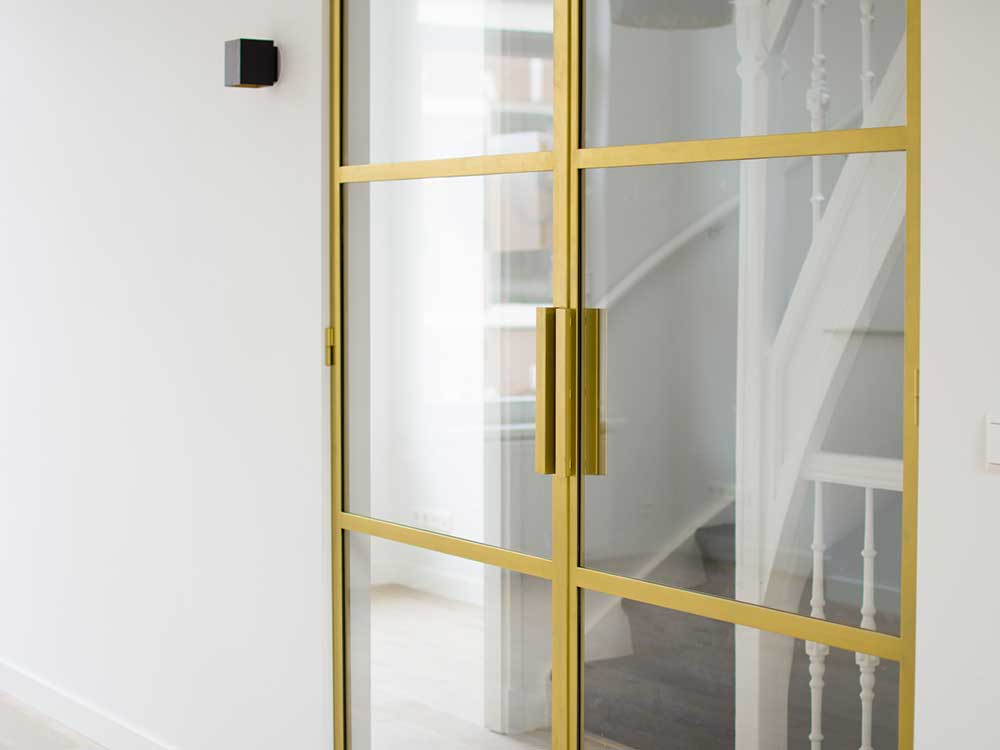 The finish can be executed in every imaginable RAL color. We also offer the possibility of adding unique effects, such as a rust effect on the steel elements of the product. We only use safety glass, in order to ensure your safety and that of possible family members or co-workers. The glass and steel elements also offer you acoustic insulation, which is an added bonus if you can use some extra privacy in a space or building.
Available types
Hinged doors
Hinged doors are usually used in spaces where doors can be opened in only one direction. Very often we place them in rooms or in offices, since the amount of room in these spaces is often economically distributed. This is the most popular type of door since it is versatile and easy to install. One very important element is to specify, whether the door opens on the left or right side.
Swing doors
Swing doors are a fantastic option if you want a luxury and airy look. These doors swing open by being attached to a specific point on the top and bottom, which makes the doors look stylish whichever position it holds at any moment. Both hinged as well as swing doors are available in a multitude of sizes, making these the perfect addition to any modern interior.
Sliding doors
If you want to save room or are looking for a modern solution to an en-suite apartment or office, sliding doors are the best option. These doors operate with a soft-close system, meaning the sliding makes no significant noise at all. Perfect for meeting rooms, dinner spaces and restaurants.
Doors with fixed elements
If you want an elegant solution that is partly fixed to the wall, our fixed panel doors are perfect for you. These can also be produced in many available shapes and sizes and will fit seamlessly into every modern-day interior. These doors are also perfect for rooms that lead outside, as you can enjoy a lot of natural light without having to open the entire door.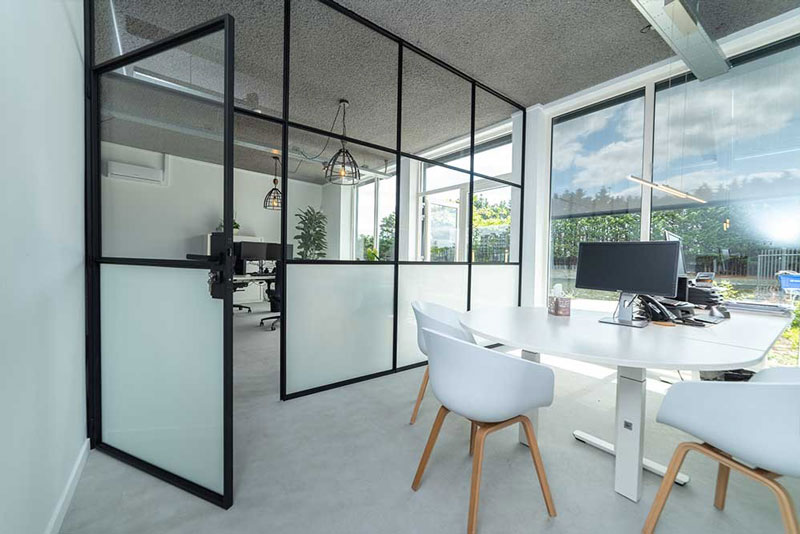 Applications example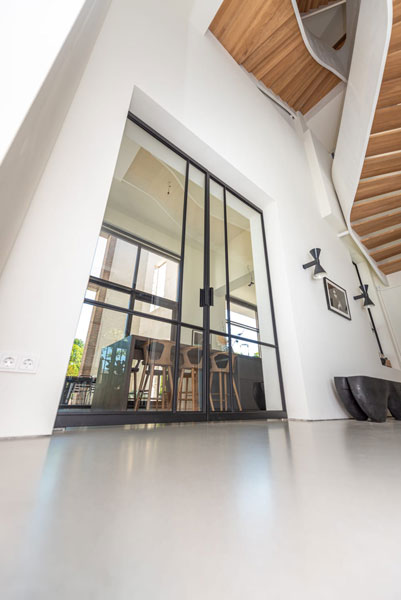 Offices, conference buildings and administrative buildings
Our glass and steel solutions have already been installed in several modern office spaces. These doors offer not only plenty natural lighting, but also acoustic insulation. This makes it much easier to have private conversations and business meetings. Feel free to contact us with specific wishes or ideas for your office space. You can take a look at our projects, to see how our glass and steel doors complement any business space, such as an open-plan office.
Private apartments and houses
Glass and steel doors can transform any private space into an oasis of tranquility, light and peace. The doors are all created with steel and safety glass. The doors can be painted in every available RAL color and adjusted to your personal specifications, which makes the installation of one of our solutions possible in every single house or apartment.
Restaurants and hotels
Restaurants and other facilities that often house a large number of guests, can greatly benefit from the design as well as functionality of our steel and glass solutions. If you own a space with multiple rooms, the glass elements can brighten up the space instantly as opposed to conventional doors. You are completely free in the way you want to reorganize a certain space. In addition to creating multiple spaces such as conference rooms, we also offer the opportunity to create separate rooms for private dinners and guests.
Learn more about prices
Free valuation, measurement and advice.
Clients and Partners
We are working with the best