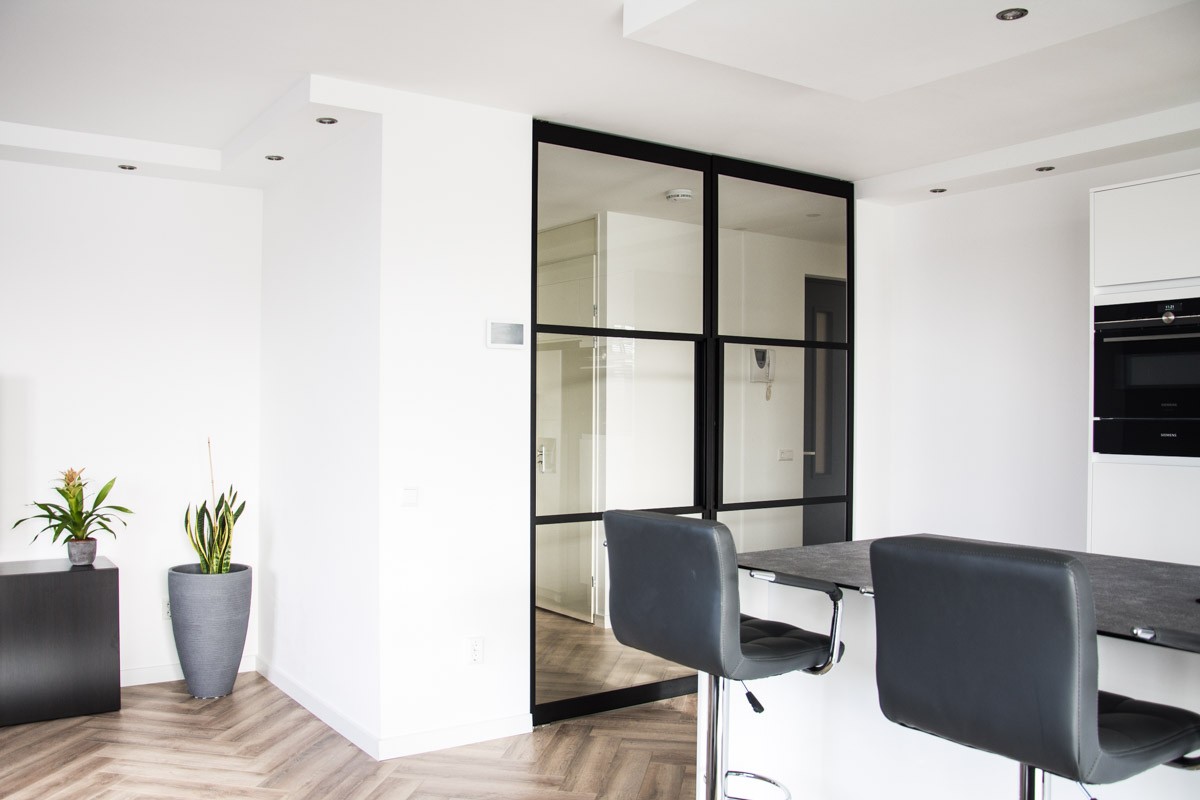 Do you want to change something about your interior, but you're not sure yet which element or item? Often we feel like we could use a fresh start, especially during the time of year when spring arrives. It can be a bit difficult, however, to exactly pinpoint what needs changing in your home or office space. Sometimes you feel like changing the color on the wall or buying some new furniture just won't be enough. The last couple of years we have seen a shift in interior design. Modern, minimalistic and contemporary elements are more popular than ever. If you would like to modernize your living or working space, then steel and glass elements might be just the thing you need. You might even combine it with some unique pieces of furniture, or a brand new polished concrete floor. Your space will look completely different afterwards; similar to a complete renovation.
The benefits of a glass door in your interior
If there is one thing you can never have enough of in a living or working space, it's definitely natural light. If you have a lot of windows in your home, you can consider yourself lucky as natural lighting is highly beneficial for the appearance of your house as well as your own wellbeing. With a glass door you instantly create a lighter atmosphere, which is an added bonus if the space used to be somewhat dark. A glass and steel door is also a perfect solution to connect two individual spaces. If you choose double glass doors, you can turn two rooms into one larger space for multifunctional use. Maybe you would like the kitchen and living room to be more connected, yet with the possibility to close both spaces off? A glass door will aid you in creating a more open floor plan, whilst at the same time providing you with a sufficient amount of privacy.
Thermal and acoustic insulation
One of the main benefits of steel and glass doors is the amount of insulation this solution provides. Due to the materials you allow a lot of light into your space, as well as a higher level of accessibility. Nonetheless our steel and glass doors offer a high amount of acoustic insulation, meaning you will be able to talk in private once you close the door. Our glass and steel doors also offer a considerate amount of thermal insulation and this will certainly prove beneficial for the amount on your yearly electric bill.
Suitable for homes as well as office spaces
The modern and versatile design of our glass and steel solutions is useable in every imaginable space: from the comfort of your own home to all sorts of business spaces like offices, restaurants, exclusive stores and high-end hotels. The glass and steel doors can also be used as a front or back door, which will provide you with a stylish separation between your inside and outside space.
If you would like more information or have specific preferences or inquiries, never hesitate to contact us for a personal quote. We are happy to think along with you and offer you the perfect solution for your home or business.