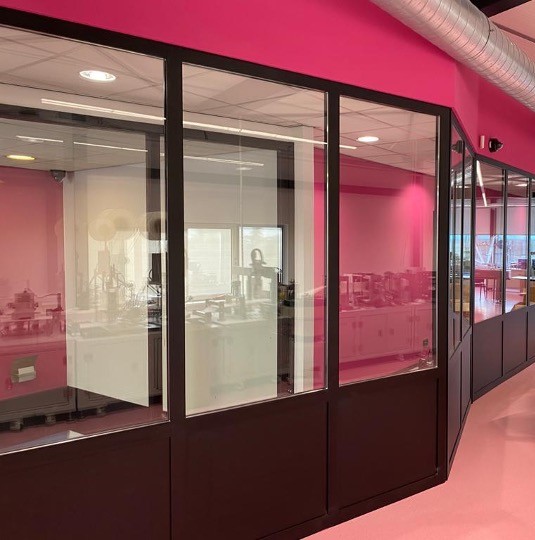 Soundproof glass panes
As you might already know, we use a lot of glass components in our models and projects. Glass is a contemporary material that fits into every imaginable interior, design, and space. Moreover; glass provides every space with the necessary natural lighting it deserves. This is not only profitable for space itself, but also for you as natural lighting is very important for our overall wellbeing and health.
The benefits of soundproof glass panes
During the last couple of decades, double-sided panes became extremely popular. Especially for housing in cities, as well as corporate buildings since it manages to drown out any external noise to a high degree. Nowadays technology has provided us with even more possibilities in this regard, as glass panes are continually being tested and improved in terms of acoustic damping.
As a firm specializing in glass and steel elements, of course we felt we cannot ever stay behind on current technology. This is the reason that we offer products which are now being made with the use of special sound-absorbing glass panes. This not only ensures a durable quality of our product, but also provides excellent acoustic insulation for any space imaginable.
What are the advantages of sound-absorbing glass?
If you are the proud owner of a business space, you probably know about the importance of privacy and silence. Especially since open-office floor plans became a trend. Working together can be enormously beneficial for projects and team efforts, but every company also needs spaces that offer silence and a quiet place to work.
In order to maintain the 'open feel' of a co-working space and at the same time offer more privacy, our steel and glass solutions in combination with sound-absorbing glass are the perfect solution. In an elegant way we can still keep the atmosphere of a space, offering you many solutions for private corners and spaces to work in peace. The same goes for private housing; you could split a living room in two with our product and work alongside your children in silence. The dream of every parent!
Ideas for the application of soundproof glass
Our soundproof panes are applicable in many different situations. Next to office buildings and houses and apartments, our solution can do well in many other situations:
Conference rooms

Hotels and hotel lobbies

Medical en veterinary clinics

Restaurants and bars

As a separation in production areas

As a separation for waiting rooms
ProSteel offers professional solutions for modern interior design
If you are looking to professionalize your business space or modernize your living space, we can offer you many solutions in terms of acoustic damping. Our soundproof panes are marked 44.2 / 16/6 Planiclear rw 42; RW 42 is the Weighted Specific Sound Insulation Coefficient. This means we provide quality and can offer you very high acoustic insulation in any space. If you would like to know more about our services or would like to schedule an appointment, please feel free to contact us anytime. Our team will happily provide you with the help you need.