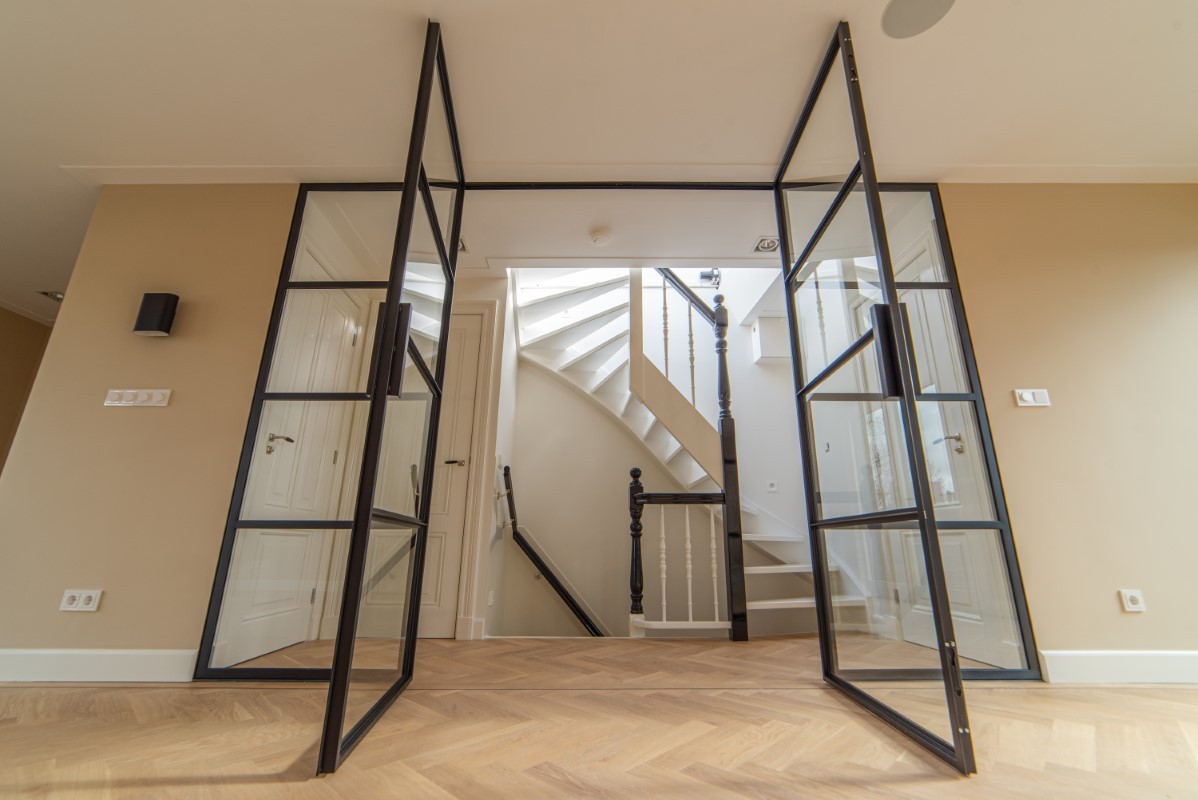 Steel for your interior: ready-made solutions, custom-made components or something in between?
Steel and glass elements incorporated in various types of buildings and interiors are rapidly gaining popularity. During the past few years, industrial and minimalistic designs have been marketed in abundance and you can clearly see that this trend is still increasing. The most beautiful aspect of glass and steel is the sheer versatility of incorporation into any possible interior. Whether you own a loft, a historical monument or a business space: you can finish the design of your space with one of our expertly crafted products. The choice for a custom-made solution or already existing design is more easy to make nowadays, since our solutions offer a wide range of possibilities for your building. Our designs are available in multiple sizes, colors and extra options that are easily adaptable for every single project. Read on for some tips and information about our glass and steel products.
Our solutions can be incorporated in any wall
In our shop you can see that we offer multiple solutions, ranging from single hinged doors to large double doors that will fit well into large modern spaces. The designs are flexible enough to be built into any kind of wall made out of any possible material. Due to our extensive craftsmanship and experience on-the-job, we have acquired the necessary tools and solutions to seamlessly fit our ready-made solutions into any living or working space.
Single door or double doors?
If you have a smaller space that you would like to modernize, our single doors are the perfect fit for you. These doors vary in size between 60 and 100 centimeters, allowing installation in even the smallest rooms. If you would like to install a steel and glass element into a larger space, or would like to divide a large space into multiple smaller areas, our double doors will help you to achieve this result. The sizes of our double door solutions vary between 120 to 360 centimeters. These sizes are the most commonly used, but you can contact us of course if you desire different or specific measurements.
You can choose between hinged, sliding and swing doors
Next to the variety in sizes, we can offer three different options regarding the way you can close the doors. Sliding doors are perfect for en-suite rooms, since the sliding mechanism will not affect the usability of the space. You will also be able to place furniture right next to the doors. Hinged and swinging doors are perfect for larger spaces and openings that lead outside, as these spaces will not be affected by the opening or shutting of the doors. The designs can also be accompanied by fixed panels.
More interested in a custom solution?
If you would like a custom solution for your living or working area, we can also provide many interesting options. Our team of experts can think along with you in order to create the most fluid and natural-looking solution, so our steel and glass elements create a dynamic and flexible flow to any interior. This will result in a completely unique end-product, which is definitely worth the wait. If you have any questions or need some inspiration, never hesitate to contact us. We will gladly help you with all your requests and provide you with a clear quote.